Jobs
19-Sep-2018 to 19-Nov-2018 (PST)

Engineering

Des Moines, WA, USA

$84,984-$103,296

Salary

Regular Full-Time
The City provides an attractive benefits package which includes medical, dental, vision, life and long term disability insurance, Washington State PERS retirement, 401(a) Social Security replacement plan, 457 retirement plan contribution, and paid holidays, vacation, and sick leave.
---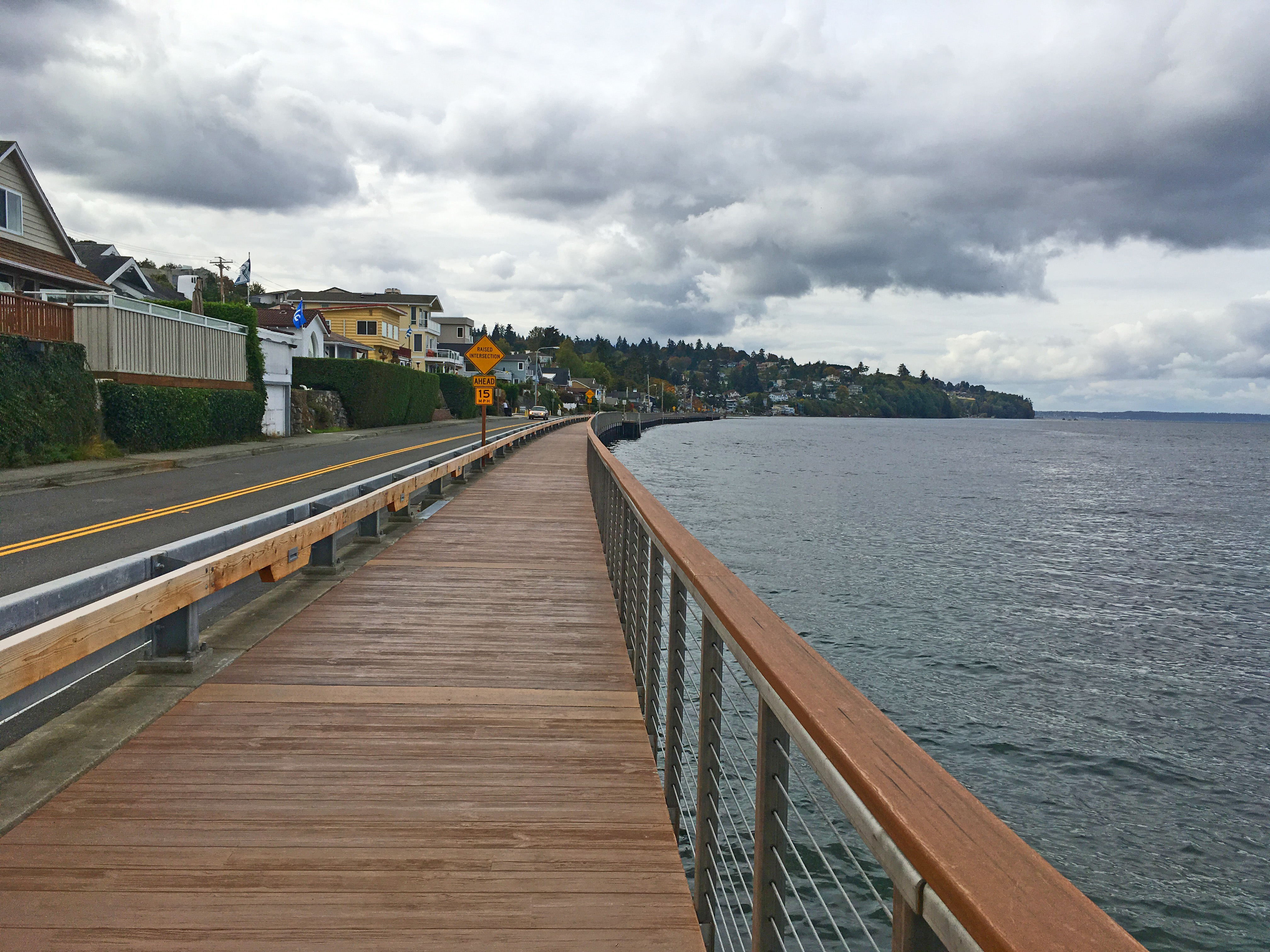 The City of Des Moines has an exciting opportunity for an experienced, senior-level capital project manager. Under the direction of the Public Works Director or designee, the Capital Improvement Program Project Manager will be responsible for managing projects such as Transportation, Surface Water Management, Building Facility, Park Facility and Playground, and Waterfront Facility type projects. This position will interact regularly with City staff and utility districts.
The incumbent will manage public works contracts including integrating the needs of City departments into the contracting process and ensuring compliance with state and local public works, professional services, and purchased services contracting statutes and ordinances. Decisions are made within a broad interpretation of applicable laws and governmental guidelines.
As a senior project manager, this position will require mentoring and project management oversight of junior staff in Capital Project Delivery, under the supervision of the Public Works Director or designee. This includes all phases of project development (Planning, PE, RW, and CN).
Passion, knowledge, and a collaborative attitude are essential for success in this position due to the small size of the department and an established culture.
Salary Range: $84,894-$103,296
To Apply: Complete the online application at https://desmoineswa.applicantpro.com/jobs/
Closing Date: Open until filled. First review on October 3, 2018.
JOB DESCRIPTION
Essential Functions
Plans, budgets and schedules assigned Capital Improvement Program projects.

Assists in development and advertisement of requests for qualifications and proposals and invitations for bids for assigned projects.

Receives and evaluates bid proposals. Rejects bids for non-compliance with bidding requirements.

Negotiates consultant services agreements and contracts.

Negotiates contract amendments and resolves contract disputes.

Directs and monitors contracts including but not limited to maintenance of project records, processing of payment requests, monitoring of contract schedules and quality control programs, acceptance and approval of as-built records, coordination of acceptance and occupancy, and contract closeout.

Issues notice to proceed.

Coordinates City-provided project design and permitting issues, inspections and quality assurance.

Coordinates project work with other jurisdictions and City programs as required.

Provides routine inspections of construction for compliance with contract terms.

Serves as City's on-site project representative to coordinate City issues.

Integrates projects with City facility management and maintenance programs by incorporating lifecycle cost and maintenance considerations into design and construction.

Assists with development and management of annual consultant and small works roster.

Provides briefings and status reports, orally or in writing.

Other such duties, reports, or projects as may be directed by the Public Works Director and/or designee.

Performs tasks related to special projects as assigned by the City Manager's office.

Establishes and maintains cooperative, effective working relationships with co-workers, other City employees, and the general public using principles of good customer service.

Reports for scheduled work with regular, reliable and punctual attendance.

Performs other duties as assigned, including but not limited to being assigned to work in other functional areas to cover absences or relief, equalize peak work periods, or balance the workload.
Necessary Knowledge, Skills, and Abilities
Knowledge of:
Cost analysis, budgeting, and contract management practices.

Federal, State, and municipal contract, development, and bid requirements.

City operations including but not limited to facilities, arterial streets, storm water facilities, permitting requirements, finance and budget requirements.

Project management principles.

Supervisory principles and practices.

Basic knowledge of computers software applications, including use of spreadsheets and databases.
Ability to:
Perform multiple tasks in a variety of professional disciplines including but not limited to planning, estimating, budgeting, project management, and capital cost accounting.

Strong organizational skills.

Exercise independent judgment.

Prioritize, organize, plan, and coordinate the work based on City and Department objectives.

Direct multiple on-going contracts simultaneously.

Deliver quality capital projects on time and within budget.

Develop policies and objectives to ensure quality, on-time, and within budget projects.

Establish and maintain cooperative and effective working relationships with staff, contractors, and the general public.

Maintain strict confidentiality regarding sensitive matters.

Maintain accurate project records.

Respond to facility related emergencies.

Read, interpret, apply and explain rules, regulations, policies and procedures.

Perform basic math.

Provide technical information and assistance concerning project and contract issues.

Maintain current knowledge of best practices, procedures, regulations, requirements and restrictions.

Analyze situations accurately and adopt an effective course of action.

Work evenings, weekends, and/or holidays as necessary.

Maintain on-call status.

Communicate effectively both orally and in writing.

Establish and maintain cooperative and effective working relationships with others.

Exercise tact and diplomacy in dealing with sensitive, complex and confidential issues and situations.

Make timely decisions considering relevant factors and evaluating alternatives, exercising discretion and sound independent judgment.

Create and meet schedules, time lines and work independently with little direction.

Work effectively in a dynamic environment that is constantly changing, resulting in continually re-evaluating and shifting priorities.

Work both independently and within a collaborative team-oriented environment; contribute openly, respectfully disagree, understand the ideas of others, listen well and work for consensus.
Education and Experience Requirements
Bachelors of Science degree from an accredited college or university with a major in Civil Engineering, Construction Management, Project Management, Engineering , or a related field; and

Minimum of (5) five years of

progressively responsible experience in managing the scope, schedule and budget for

construction or public works capital improvement projects.

Registration as a Professional Engineer in Washington State desired.

Public sector experience preferred.

A combination of experience and training enabling the individual to perform the essential functions of the position may be considered.
Special Requirements
Possession of and the ability to maintain throughout employment a valid Washington State Driver's License with a good driving record.

Successful completion of a pre-employment background and criminal history check.

Because of the known effects of tobacco use, the City of Des Moines does not hire applicants who use tobacco products.
Working Conditions and Physical Abilities
Duties require the willingness and ability to work the hours necessary to accomplish the assigned duties, including occasional evenings, weekends and/or holidays; occasionally travel out of town to attend workshops, conferences, and seminars. Position is "on-call."

Work Environment: Typical office conditions, and the noise level is usually quiet.

Physical Demands: Regularly required to sit, talk or hear, both in person and by telephone; use hands to finger, handle, feel or operate standard office equipment; and reach with hands and arms. Frequently required to stand and walk and lift up to ten pounds. Specific vision abilities include close vision and the ability to adjust focus.

Mental Demands: Regularly required to use written and oral communication skills; read and interpret data, information and documents; analyze and solve complex problems; use mathematical skills; perform highly detailed work under changing, intensive deadlines on multiple concurrent tasks; work with constant interruptions; and interact with all levels of City management, employees, vendors, the public and others encountered in the course of work.
Equal Opportunity Employer
The City of Des Moines is committed to hiring a diverse workforce and all qualified applicants, including all ethnic backgrounds and persons with disabilities, are encouraged to apply. The City is an Equal Opportunity Employer and does not unlawfully discriminate on the basis of race, sex, age, color, religion, national origin, marital status, sexual orientation, veteran status, disability status, or any other basis prohibited by federal, state, or local law.

In accordance with the Americans with Disabilities Act, an employer is obligated to make a reasonable accommodation only to the known limitations of an otherwise qualified individual with a disability. In general, it is the responsibility of the applicant or employee with a disability to inform the employer that an accommodation is needed to participate in the application process, to perform essential job functions or to receive equal benefits and privileges of employment.
General Information
The statements contained herein reflect general details as necessary to describe the principal functions for this job classification, the level of knowledge and skill typically required and the scope of responsibility, but should not be considered an all-inclusive listing of work requirements.

The physical abilities described above are representative of those that must be met by an employee to successfully perform the essential functions of the job. Reasonable accommodations may be made to enable individuals with disabilities to perform the essential functions.

The provisions of this job description do not constitute an expressed or implied contract. Any provision contained herein may be modified and/or revoked without notice.